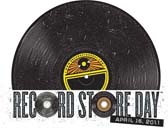 Record Store Day
is coming up next month on April 16th and Green Day will once again be taking part in the celebrations. This year Green Day has teamed up with American rock band, Hüsker Dü to release a split 7" entitled "Don't Want To Know If You Are Lonely".
The spit 7" features the song "Don't Want To Know If You Are Lonely", originally by Hüsker Dü. One side of the 7" will feature the Hüsker Dü version of the song and on the flip side will be Green Day's cover of the song.
My guess is that Green Day's recording of the song will not be a new recording, but a recording that was done for the MTV show "Influences". You can find out more information about the song in our
music section
.
For those of you that don't know, Record Store Day is a day when independently owned record stores come together with artists to celebrate music. Every year special vinyl and CD releases are made just for this day in April.
Thanks to hannahml for posting this on our forum.