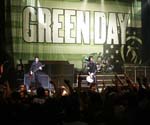 A couple days ago we
posted
about Billie Joe talking about Cheap Trick's song "Surrender" with Guitar World magazine. In that post we mentioned that Green Day combined Cheap Trick's "Surrender" with The Replacement's "Bastards of Young" creating what Green Day calls their "Midwest Medley".
Our new Featured Download is Green Day's "Midwest Medley." This recording is from the band's show at the Warfield in San Francisco on October 13, 2005. Green Day rarely plays this mashup of songs live and this is a very good quality recording of it so it is a must-have for any Green Day fan.
Click here
to go to the Featured Download page to download this awesome track!