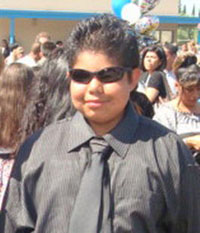 Earlier this month
we learned of Kyle Rodas
, a young teenager diagnosed with brain cancer whose last wish was to talk with members of his favorites bands: Green Day, Ozzy Osbourne, and Linkin Park. Members from each of those bands called or met with Kyle, including Billie Joe, who talked to Kyle and his dad Oscar.
Shortly after that, GDA started raising some donations so we could send something on behalf of us Green Day fans and to help in whatever way possible. Our friend Kat also asked Green Day fans to send in cards and letters so we could pass them all on to Kyle and his family. Last week were able to donate nearly $1000 to the Rodas family, and delivered some 70+ cards and letters sent by you guys.
Here is a message passed to us from Kyle's family:
" On Behalf of Kyle and our Family, we want to thank Andres, Kat, Green Day Members and the entire Green Day Authority Family for helping us.

Thank you for the Beautiful Letters, post cards, gifts, blessings and messages.
Every card was read to Kyle and all messages were played for him to hear. We may not ever repay each and everyone of you, but do know this: WE are forever indebted to all. You will forever be in our prayers and thoughts.

Truly, from the deepest of our hearts... Thank you!!!

KYLE and FAMILY"
If you'd like to help out Kyle and his family, you can do so by visiting his site,
wishes4kyle.org