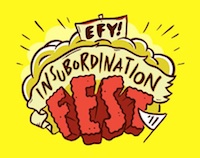 Insubordination Fest, a yearly event showcasing dozens of independent bands, is taking place this Thursday through Saturday in Baltimore, Maryland. Lookout records co-founder Larry Livermore will be appearing with his band The Potatomen and Emily's Army will also be performing at the festival, both on Saturday.
If you can make it to the Baltimore area this weekend, go along and check it out!
Click the links below to purchase tickets
One Day Pass - Thursday
One Day Pass - Friday
One Day Pass - Saturday
Two Day Pass - Friday/Saturday
To see the festival schedule as well as get more info about it, you can follow the event on
Insubordination Records Facebook page
.
GDA's co-owner, J'net, will be attending so if you're at the festival be sure to stop and say hi.