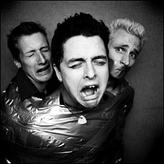 Lately the Green Day world has been abuzz with excitement over two secret shows featuring setlists abound with fresh material. I, on the other hand, have been bound down with school work, watching the lucky few recap all of the pleasures of a Green Day dominated existence. I decided to let my bitter feelings get the best of me and write up a top five list of the Green Day events that I have felt physical anguish over not being able to attend; a feeling with which most of you can relate, especially for those of us who are "snot-nosed slob[s] without job[s]" sustaining ourselves with Ramen in our dorm rooms for the school year.
5. Green Day 2005
Somewhere in Massachusetts, before they played Gillette Stadium, before Wake Me Up When September Ends was the anthem that had pop-radio lovers rushing stadiums across America, Green Day played a smaller-scale show that I was invited to, but I was thirteen and grounded. Way to go, Mom.
4. American Idiot in Berkeley
So, my favorite band makes a musical out of my favorite album... and it's in California. Ah, the days when we prayed for it to come to Broadway and were resigned to listening to bootlegs of opening night in the process.
3. Foxboro Hot Tubs Tour, Summer 2008
As a rising-senior in high school, there was no way I would have been able to travel to the west coast to see Green Day's garage-rock alter-ego the Foxboro Hot Tubs on their first (and potentially last) tour, but damn it if I didn't scheme. Stealing the family car and driving out by myself? Ah, if only I'd had the money and the balls.
2. Secret Show in Costa Mesa, CA
This is my most recent disappointment. As many of you may recall, I was the one to break the news about this - with no way of accessing it myself. Hell, I wrote a review of the new music I didn't get to listen to. C'est la vie, though, right? I'm sure they'll make their way to Boston someday.
1. St. Billie, September 2010
You know you're a Green Day fan when you read about the lead singer of your favorite band starring in a self-written rock opera on Broadway and you feel your stomach hit the floor with the realization that there's no way to get from New Hampshire to New York in time for the final performance, no matter how fast you drive nor how destitute your bank account becomes. Not being able to witness St. Billie during his first impromptu run this time last year may have come close to killing me - not so much from the anguish of a disenchanted fan, but from my former-roommate nearly strangling me when I dreamt about it and screamed out in my sleep.