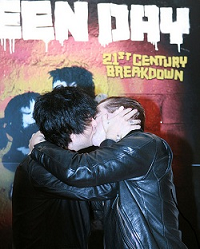 The members of Green Day have always been advocates for various social causes, including
the environment
,
various diseases
, and countless other organizations. They have also advocated for the gay community. In honor of National Coming Out Day, I've decided to write a piece summarizing their involvement with the gay community and how they personally influenced my own coming out story more than six years ago.
When Green Day released Dookie, the album containing "Coming Clean", a song about Billie's confusion over his sexual identity in his late teen years, the label wanted them to pick an up-and-coming pop-punk band that would satisfy the masses and blend well with their sound. In contrast of their first wish and as a tribute to Gilman Street, they brought the Pansy Division on their first major-label tour, a band that is notorious for being openly gay with songs such as "Cocksucker Club" and "He Whipped My Ass in Tennis (Then I Fucked His Ass in Bed)."
Throughout the tour, many fans were unsupportive of the Pansy Division's homosexual message, to which Billie and the gang took no liberties. They were often known to chastise the crowd, thereby sending out a pro-gay message that many young fans took to heart. In a 2004 interview, Billie Joe said that "We ended up getting letters from kids saying that Pansy Division opening for us changed their lives."
Billie Joe was quoted in an interview with Advocate in 1994 as saying "I think I've always been bisexual ... It's a beautiful thing." He also said that homosexuality in general should "... be something that's just accepted." As was previously mentioned, "Coming Clean" is about his struggles with his own sexual orientation. In 2010 he told Out magazine that he wasn't sure if he'd still say he was bisexual, "but I'd never say that I'm not. I don't really classify myself as anything. And when it comes to sex, there are parts of me that are shy and conservative. I want to respect my wife."
In terms of coming out stories, mine in particular relies pretty heavily on Green Day. I decided at some point when I was about thirteen that I should tell my mom that I'm gay. Nervously, I asked her to come into my room. We sat down on the bed, and after I repeatedly asked her if she would always love me no matter what, I pulled out the Dookie album art. I flipped open to the page where the lyrics to "Coming Clean" are and told her that I wanted to get the skeleton tattooed when I turned eighteen. When she asked me why, I responded that the phrase coming clean had a lot of significance to me, and I made her guess as to why. She eventually did, and the rest goes down in history (I feel I should mention as a side note that she was and is incredibly supportive. Go Mom.)
Green Day's message has always been supportive of the outcasts, and I'm sure that I'm not the only gay person to have taken something away from their music. Throughout the years, they've really helped me accept myself and helped me to tell people who I am.
... Now go come out to someone, after watching this live video of "Coming Clean."
Articles:
Out Magazine - April 2010