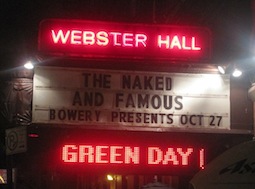 Well, what a week it's been! It started out with
speculation
around what Green Day's part would be at the "Mark Twain Prize Award For Humor" in Washington DC, honoring Will Ferrell. In the end, rather surprisingly, only Billie Joe attended the event, and performed
Good Riddance (Time Of Your Life)
towards the end of the ceremony. It's scheduled to be broadcast on
PBS
channel in the US on 31st October - we'll work to bring you footage of that.
The big news of the week surfaced on Wednesday, in what was one of the hottest days for Green Day news i can remember for a while. It started with a
picture of Billie Joe
with "Trekstock" - a charity for young people with cancer. Hot on the heels of that, we learned that "GREEN DAY ROCKS" was trending worldwide on twitter, the first time for a prolonged period (a couple of hours) that the band's name has done so.
Then the really big news broke. Fans were already on alert when the American Idiot Musical Facebook page said they'd be making a big announcement in the next hour. They would announce the
touring cast
for the upcoming musical tour. While we were waiting for that,
news broke
that Green Day would be playing a surprse "Halloween" show at Webster Hall's The Studio the following day. Cue
Mass Hysteria
among Green Day fans...