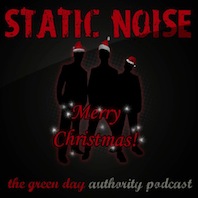 For our final episode of
Static Noise
of the year, we'll be taking a look at some of our favourite moments and memories from 'Green Day Land' in 2011, and we want you to join in!
We'd especially like some audio clips to play on the show, so send us a recording if you can (preferably mp3 and less than a minute long). Feel free to send them in writing though, if you prefer. We'll read a few of those out too.
The e-mail address to send to is staticnoise@greendayauthority.com.
You can also visit
this thread
on our forum for some discussion and inspiration to recall those memories.
The episode will go out this weekend, and we need your entries to be in by midnight Thursday - in any timezone.
YOU can be
the sound of the static noise, blasting out in stereo...
A big thanks to @Letterbomb17 for making the Christmassy Static Noise image (Christmas isn't over yet, right?)