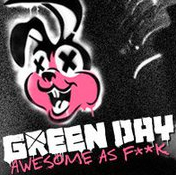 "Ding ding... congratulations, you are the 20 millionth Green Day fan!" - Who was it then? Step forward and claim your prize!
That's right, Green Day have surpassed 20 million 'likes' on their
facebook page
. That's quite a phenomenal number, don't ya think?
You might remember in
one of our recent posts
, it was reported that Green Day's page was in the top 10 most popular artists pages. We threw down the gauntlet to Green Day to play a show to all 20,000,000 (+) of you when they reached that figure. Guys, it's over to you! ;)
Here's to another 20 million and beyond!
P.S. We'd also like to take this opportunity to quash some of the rumors floating about the Internet today stating that Green Day's next album will be out in September. These rumors are NOT true. Someone jumped the gun again! Naughty. Green Day will make an announcement through their avenues if and when a new album is to be released.
Till then, let's enjoy what we already have!
Thanks to My Generation for sending the facebook page news.