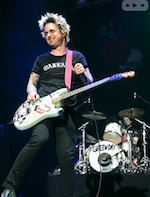 This photo of Billie Joe, taken when Green Day performed earlier this month in Oakland, CA, was included in SoundSpike.com's "Best Concert Photos of 2011".
You can find his image at 12 out of 100. Check out all the images
over on SoundSpike.com
"Thanks to a team of approximately 40 talented contributing music photographers based in key metropolitan areas around the U.S., SoundSpike was able to publish nearly 11,000 images in 2011. We've narrowed them down to 100 shots you shouldn't miss."
Thanks to L! for sending this news.