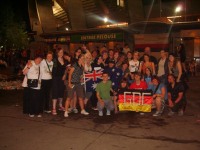 I've always felt a strong wish to thank Green Day at the end of every show when Billie starts pointing at people in the crowd and saying, "Thank YOU. Thank YOU. Thank YOU." Obviously, many others feel the same way - hence the proliferation of the Thank You signs that led to ... well, that's another story! The first time I spoke to Billie, I did thank him, and he said, "No, thank YOU!" with the sweetest smile. It's occurred to me lately that I need to say more than just, "Thank you." I need to explain why I'm so grateful to Green Day.
Green Day's music has been with me personally since the early 90's. I was introduced to Kerplunk some time before Dookie appeared on the scene. I listened and liked what I heard, but wasn't immediately a rabid fan - just enjoyed listening for a while.
During the Dookie and Nimrod days, I heard them often on the radio. I grew even fonder of their music and enjoyed many of their music videos as well. Two enduring images from those days: Billie in the Basket Case video looking up into the camera at an odd angle with a crazy look on his face and his spiky hair and, of course, Billie tearing up the couch in the Longview vid.