Aux.tv has posted the work of photographer
Ana Beccerra
, who spent last month taking photos that depicted what band names would look like if taken literally. The collection features band names like Death Cab for Cutie, Hellogoodbye, Nine Inch Nails, and Green Day amongst several others.
Here's
what her version of Green Day looks like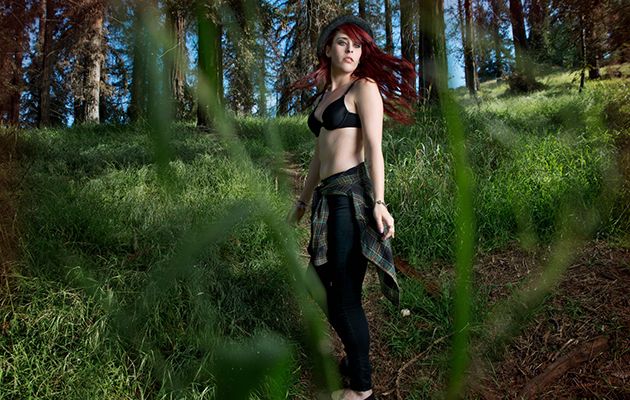 (Photograph by
Ana Becerra
)
It's obvious the name isn't meant to represent the
actual
meaning of the band name (since 'green day' means a day getting high with your friends) - but rather her interpretation of the title itself. Why a redhead in black bra is twirling in a lush forest, that I don't know. Then again, I'm the person who flunked art history and interpretation.
Here's what Ana said about the photo:
"I figured since it was Earth Day I'd do an editorial take on "Green Day". Part of me is giggling because I think it's somewhat clever. There were so many ways I wanted to interpret this band but I wanted to capture that element of nature with it. I've been looking at a lot of fashion magazine and editorial shots, as well as some old stuff I shot and wanted this simple look to go with it. I love the forest and I'm beyond excited that I found this IN San Diego. Hooray for exploring!"
Let us know what you think in the comments, or maybe how you'd photograph 'green day'.
Check out the rest of the collection
on Ana's site
, or
on aux.tv
.
Thanks to Overjoyyed for posting this on our forum.