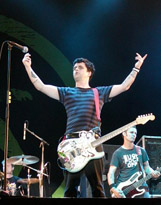 Ten years ago, in July 2002, I saw Green Day for the first time. There's an impression amongst certain Green Day fans, some of whom perhaps weren't around to see it, that the years leading up to American Idiot saw the band become a greatest hits act, a group who could only attract the most loyal and longstanding members of their fanbase to their shows. This is, of course, rubbish.
The day I went was the first of a two-night residency at Wembley Arena where they would play to over twenty-thousand people. The year before, they were second headliners at Reading and Leeds Festivals. American Idiot, of course, afforded the group the opportunity to play stadiums, or massive former clay-pits in the case of the Bullet in a Bible shows, but before that they were a huge act, and had been for ten years.
Anyway, it's too soon to get into tangents - my experience is entirely unrelated to how many fans the band had at that time. I myself wasn't even a fan of the band then - I only went to accompany my 12-year-old sister who had become something of a fan herself after the Warning album. We'd both seen their videos on MTV2, but I'd written the group off along with 99% of the crap that the channel showed; lots of Limp Bizkit and Papa Roach, as I recall. She stuck with them, bought a couple of albums and dragged me along to the gig, at my insistence that we get seated tickets so I could have a rest if the show was rubbish.
continue reading...