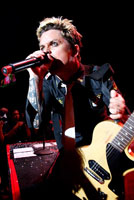 Green Day's upcoming live album, Awesome As Fuck, has been listed on MSN.com (alongside an awesome photo) as one of the
most anticipated albums of 2011
.
"Title says it all, dunnit? The kings of political hooliganism continue to appeal to the angry adolescent in all of us. Green Day's upcoming live album -- their sixth -- documents the Bay Area veterans' arena-punking 21st Century Breakdown tour, with accompanying DVD footage of a pair of shows in Tokyo."
Thanks to Holly J. and for sending this news.
Click here
to check out all our stories about the upcoming live album.