Yesterday the first item we auctioned off, a
Rock Band photo autographed by Green Day
, was sold with a final price of just over $300. Thanks to everyone who bid on the item, and thanks to Erin P. who ended up winning the photo. 100% of that money is going to support the Red Cross and the recovery efforts in Japan.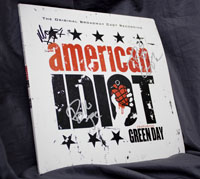 Today we've put up
a really awesome vinyl
of the American Idiot musical cast album, also autographed by Billie Joe, Mike and Tre. This was sent to us by Billie Joe's label,
Adeline Records
, specifically for this charity auction.
Check out the listing on eBay
.
Bidding will end on April 4th.
Again, 100% of the proceeds from this auction will go to the Red Cross to help with the recovery in Japan. Thanks to everyone bidding, and a huge thanks to
Adeline Records
for donating the item.