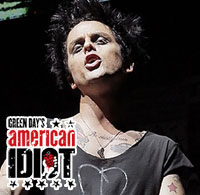 News broke late last night that Universal Pictures
is negotiating to begin work
on the movie version of American Idiot. We
learned last year
that Tom Hanks and his production company, Playtone, had optioned the musical to create a film version. They have selected Dustin Lance Black to adapt the screenplay from the musical. Black most recently wrote the film
J. Edgar
, but is known for his work as a writer for the movie "Milk" and adapting the musical "Mamma Mia!", which was also produced by Playtone and Universal in 2008.
Michael Mayer, director of the Broadway musical, will be directing the film which will be produced by Green Day, Pat Magnarella (Green Day's manager who also produced Bullet In a Bible, Awesome As Fuck, and Heart Like a Hand Grenade), Playtone (Tom Hanks and Gary Goetzman) and Tom Hulce.
One news outlet
"wondered" (for lack of a better word) if Billie Joe's success as St. Jimmy in the musical would lead to a role for him in the film, but no casting has been confirmed. Billie Joe has said in previous interviews that if the movie was made he'd leave "acting to the pro's" - but that was before his run on Broadway.
As for Green Day's involvement in the project - they've always stated that they would take an active role in any adaptation of their work to make sure it stayed true to what they wanted. They worked closely with Michael Mayer during production for the musical, and I'd say the same would be true for the film. With Michael Mayer directing, it feels like they've already got someone who has worked closely with Green Day and understands what they want. Mayer previously directed the films "A Home At The End of the World" and "Flicka".
Here are some more news stories about this:
'American Idiot' Movie Lands at Universal
"American Idiot" movie lands at Universal
Musical chairs finds 'American Idiot' heading to the big screen
American Idiot Film in the Works; Will Green Day's Billie Joe Armstrong Star?
'American Idiot' Movie: Green Day Broadway Show To Become A Film
What are your thoughts on the film? Looking forward to it? Any thoughts on what you'd want to see from a movie? Leave your comments below.
Thanks to addictedjamie, Jssibs, and Andre for sending this news.