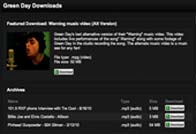 We here at GDA are proud to unveil our newest addition to the site called
"Featured Download"
. This new section is pretty much just a revamped version of our older Download of the Week section with the only difference being that there will not be a new download every single week. Most likely we will end up have two new downloads a month.
Our first Featured Download is the alternate version of the "Warning" music video. This version of the video includes live performances of "Warning" along with some footage of Green Day in the studio recording the song. The alternate music video is a must-see for any fan!
You can head on over to our Featured Download page to download this alternate version of the "Warning" video by
clicking here
.