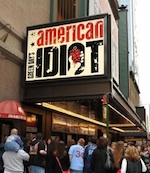 Tonight is the final show for the American Idiot musical, which opened just over a year ago this month. Some of the GDA team have gathered in New York to watch the final performance and the end of Billie Joe's run as St. Jimmy.
I will be taking over the GDA twitter account, @GDA, to update throughout the day as we get into the show, and thoughts immediately after it ends.
Last night Green Day were at the theater sound-checking, so rumors are a-buzz that they might do something special for the final show - but we weren't able to confirm it. Follow @GreenDayUpdates and we'll post whatever we can when we find out.
You can talk about the final performance
in this thread on the forum
, where other Green Day fans have been talking about Billie Joe's performances (you might want to skip toward the end, it's a pretty long thread).
Me, J'net, Courtney, Tony and (hopefully) Jimmy will be in NY. If you see us around the St. James, be sure to say hi. If you don't know what we look like, stop every single chubby Mexican in a black sweater with a faux-hawk and ask them if their name is Andres. If it's not me, give them a burrito and apologize. Thanks to everyone who stopped by and said hi to us at
Niki Lee's book signing
today. I had a blast meeting so many awesome people who visit GDA.
We'll have a full recap for the site Tuesday.