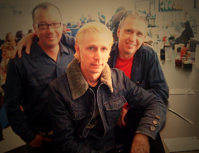 This past Friday, Mike Dirnt officially opened his second Rudy's Can't Fail Cafe in Uptown Oakland, California.
NBC Bay Area News
was at the official ribbon cutting ceremony of "Rudy's" saying that the restaurant is apart of renaissance in the Uptown area.
Mike talked with NBC Bay Area and said,
"I remember growing up there were great diners, you could go and have a pint with friends after a show. The Bay Area's a special place, fortunately I get to appreciate it because I'm gone a lot. When I leave I come back, I'm really happy because I don't always get to be here."
The article also mentions that at every table has a different collection of oddities, making every table unique. In addition, they also mention that the restaurant is filled with a collection of antique dolls, definitely an awesome group of conversation pieces.
You can read the whole article over on NBCBayArea.com by
clicking here
.
Thanks to @GreenDayMind for the news.