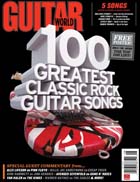 In the upcoming August edition of Guitar World Magazine, Billie Joe will be discussing the Cheap Trick song "Surrender" as a part of Guitar World's "100 Greatest Classic Rock Guitar Songs" issue.
In the past Green Day has covered "Surrender" during their live shows and combined it with The Replacement's "Bastards of Young" creating what Green Day calls their "Midwest Medley".
Click here
to listen to Green Day's rendition of the song.
You can order your copy of the magazine on GuitarWorld.com by
clicking here
. We will have scans up from the article in the next few weeks.
Thanks to Bruno for sending this news.