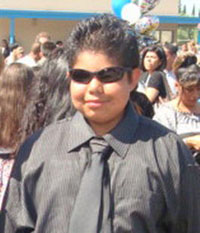 Last month
we wrote about
a teenager battling brain cancer who's last wish was to meet his favorite musicians, Green Day, Linkin Park and Ozzy Osbourne. When we first posted the story Kyle's condition was bad, and his family knew he had limited time.
I got an email from Kyle's dad, Oscar, letting me know that Kyle passed away early this morning. He was
incredibly grateful
for all the support they got from fans of Kyle's favorite bands who helped reach out to the band members themselves, as well as sending cards and letters of support.
Kyle celebrated his 15th birthday two weeks ago on July 14th.
Our thoughts go out to Kyle's family on their loss today. Thank you for allowing us to be a part of Kyle's dream.