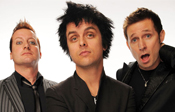 Recently, Gibson.com comprised a list of who their thought were rocks "10 Ten Trios". Green Day made the list coming in a number 6.
"In 20 years the Californians have gone from three-man, three-chord punks to auteurs of Broadway, which is some achievement. Billie Joe Armstrong remains the hub, spitting out lyrics and riffs while drummer Tré Cool is no slouch, summoning the spirits of The Clash's Topper Headon and The Who's Keith Moon with gleeful abandon. Unlike many veteran bands, Green Day retain immense ambition... their American Idiot show is touring late in 2011 with talk of a movie version also coming soon."
Other bands that made the list include Cream, Nirvana, ZZ Top, and The Jimi Hendrix Experience.
You can see the whole list on
the Gibson website
.
Thanks to WTFer for sending this news.