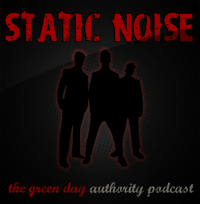 After being gone all summer and only a few episodes earlier in the year, we're bringing the podcast back! Omar De La Rosa joins us this week to talk about Green Day's secret show. We play a little bit of their new song, 'Amy', and cover a couple new things going on around the site.
For links to all the topics we covered,
visit this topic
on the forum.
Be a part of the show, email us (staticnoise@greendayauthority.com) or post a message on the
Static Noise Facebook Page
.
Listen
Or right click this link to
save the mp3
.
Better yet, you can
subscribe to the show in iTunes
to get the latest episodes automatically when they're published.