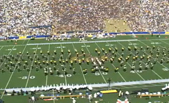 Senior Joel Chroscinsk of the Pequea Valley High School marching band has written this years field show themed to Green Day's song "Holiday".
"The feel of the drill is more relaxed because of the punk show, it's still very formal for marching band. Joel's peers on the field like the drill, too. Everybody seems to enjoy it, we haven't run into any problems so far, and (there is) no complaining."
You can read the full article over on Lancaster Online by
clicking here
. I do a little bit with my schools marching band so I found this a very interesting read.
Reading this story reminded me of a few years ago when another matching band created a field show for "Basket Case", "Welcome to Paradise", "Boulevard of Broken Dreams," "Poprocks and Coke," and "American Idiot". I thought the arrangement sounded pretty badass. You can check out their show on YouTube:
Part 1
and
Part 2
.
Thanks to LChampion for sending this news.