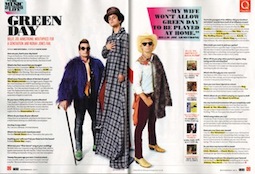 Our good friend Marie at
Green Day Inc
in Brazil sent me
this transcript
of a recent interview with Billie Joe for the 25th anniversary issue of
Q Magazine
. We find out a bit about what the Green Day front man has been up to this summer, as well as more about his musical influences and tastes, among other things in this interesting interview.
Here's a little snippet that i enjoyed...
Q Magazine:
"Have you ever been star-struck?"
Billie Joe:
"I ran into Joe Strummer at an airport once. His band was playing in Minnesota and I was pushing a baby carriage. I was there to go visit my family. There he was standing right behind me so I turned around. He talked to my son Joey. He was saying, "Oh, my name's Joey too." That was pretty amazing."
It's a good read. Head on over to
Green Day Inc
to read the rest of the interview.
You can order the issue with Green Day on the cover from Q Magazine
here
.
Thanks Marie!