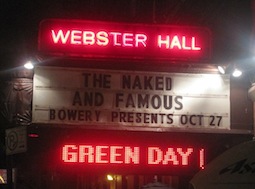 Well, what a week it's been! It started out with
speculation
around what Green Day's part would be at the "Mark Twain Prize Award For Humor" in Washington DC, honoring Will Ferrell. In the end, rather surprisingly, only Billie Joe attended the event, and performed
Good Riddance (Time Of Your Life)
towards the end of the ceremony. It's scheduled to be broadcast on
PBS
channel in the US on 31st October - we'll work to bring you footage of that.
The big news of the week surfaced on Wednesday, in what was one of the hottest days for Green Day news i can remember for a while. It started with a
picture of Billie Joe
with "Trekstock" - a charity for young people with cancer. Hot on the heels of that, we learned that "GREEN DAY ROCKS" was trending worldwide on twitter, the first time for a prolonged period (a couple of hours) that the band's name has done so.
Then the really big news broke. Fans were already on alert when the American Idiot Musical Facebook page said they'd be making a big announcement in the next hour. They would announce the
touring cast
for the upcoming musical tour. While we were waiting for that,
news broke
that Green Day would be playing a surprse "Halloween" show at Webster Hall's The Studio the following day. Cue
Mass Hysteria
among Green Day fans...
Tickets for the 300 capacity venue were put up on sale on the Webster Hall website at 12pm EDT for only $20 each, and apparently sold out in just 35 seconds. The next 24 hours were a mad scramble for fans trying to find tickets from different avenues. Tickets were (disappointingly) popping up on websites such as eBay and Craigslist for well over face value, one even being touted for around $9,000.
Fortunately, there were a few more opportunities for fans to score tickets without selling a kidney. The Idiot Club announced that it would be holding a contest for a "limited number of free guest list tickets" and New York radio DJ
Rich Russo
also held a contest for 1 ticket at face value for the show.
I'm pleased to report that most of the people i knew who were looking for tickets, eventually found a way and got to enjoy
another
once in a lifetime Green Day show! You can see pictures, videos and reviews from the show in
this post
.
We'll be discussing the show and the rest of the week's events in the next episode of the
Static Noise
podcast, which will be up on Monday. In the mean time, if you want to listen to last week's show, where we cover Green Day's interview on Little Steven's Underground Garage show, you can do so below:
Listen to the show
What will we have in store next? We shall see!