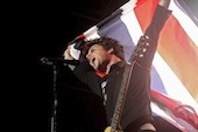 On this week...
Last Year:
Green Day brought the curtain down on their 21st Century Breakdown tour, finishing with shows in Peru and last of all, Costa Rica. Billie Joe proclaimed during the show in Costa Rica that they had "saved the best for last" and went on to prove that point by playing an incredible set including rarely played oldies such as
I Was There
,
Brat
and
Road To Acceptance
.
Check out this video made by fans in Peru for the show there:

2 Years Ago:
The 1st leg of the band's European tour was making it's way through the UK, with shows in Sheffield, Birmingham (x2) and Manchester. Billie Joe tweeted this after the 2nd Birmingham show:
"Just finished show in Birmingham.. Got in a wresting match with Lucha dor!!! She kicked my ass! -billie joe"
And intriguingly, this the next day...
"Hot tubs in London??!! - billie j"

In 2005:
"Jesus of Suburbia" was released as the 5th and final single from album
American Idiot
. At just over 9 minutes, it's the longest running time of any Green Day single, as well as perhaps any act? It was certainly the longest ever performed on former UK music show
Top Of The Pops
, which you can see
here
.

In 2001:
"Waiting" was released as the 3rd single from album
Warning
. The 'b' side to one of the single versions also featured the original recording of "Maria".
In 1999:
Green Day played a rare acoustic concert for the Bridge School Benefit in Mountanview, California. This was the first time that
Jason White
performed with Green Day at a live concert. The band also premiered song
Warning
, which would not be officially released until 2001.
Stay tuned for the next instalment of "On This Week..."