On this week...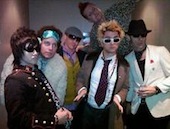 In 2009:
Green Day played the last 2 shows of their
21st Century Breakdown
UK arena tour, finishing with the 2nd of 2 nights in
Manchester
on Halloween night, and finally a 3rd performance in
London
, this time at Wembley Arena.
That wasn't quite it though, as the event that many fans were speculating about, became a reality when the
Foxboro Hot Tubs
played their
first gig in London
, at
The Garage
in Islington, immediately after the Wembley show. It was an incredible night of trademark
Foxboro
drunken debauchery!
As Green Day headed to Germany to continue the rest of their European tour,
The Reverend Strychnine Twitch
gave us some idea of how they were feeling the following day, with this tweet:
"Dear baby girls,Guess which members of the hot tubs puked after the show?-theRev"
It was also
announced
that Green Day would be back to play their biggest show to date, at Wembley Stadium the following summer.

In 2006:
Green Day's collaboration single with U2 "The Saints are Coming" was released on 31st October. Proceeds from the sale of this CD went towards helping area musicians replace instruments lost during Hurricane Katrina.
In 2005:
Green Day performed "Holiday" at the MTV EMA's in Lisbon, Portugal.

In 2003:
Friend and peer of the band, Iggy Pop, released his album "Skull Ring" which featured 2 songs that Green Day collaborated on with the
Iggy and The Stooges
frontman -
Private Hell
and
Supermarket
.
In 2001:
"Macy's Day Parade" was released as a promo single from album Warning on 3rd November. You can watch the video for that
here
.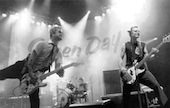 In 1998:
Green Day toured South America for the first time, as part of their
Nimrod
tour. They played shows in Argentina, Chile and Brazil. Here's an
audio recording
of "She" from the
Teatro Monumental
show in Santiago, Chile.