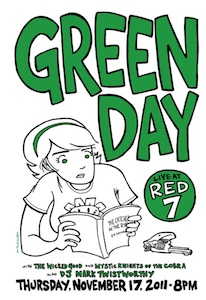 It's finally confirmed that Green Day will be performing tonight in Austin, TX at Red7.
Tickets
went on sale
now at noon (Central) online for $20, but sold out within 15 seconds according to
Red7's twitter
. It's an all-ages show with doors opening at 8pm.
Two bands will be opening for Green Day,
Mystic Knights of the Cobra
and
The Wicked Good
. Some of you may remember "Mystic Knights" when they opened for the Foxboro Hot Tubs previously, and The Wicked Good is a new band by Jeff Matika, touring musician with Green Day. You can preview their first release
on Facebook
.
Best of luck to everyone trying to make it to the show tonight! We'll have updates here when more is available.
Artwork on the right was made by @mitchclem