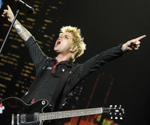 This week, we here at GDA are bringing you a little bit of a different Featured Download, but I think that you guys are going to like it. This "smooth jazz" remix of Green Day's 1994 song, "Basket Case" was done by Andy Rehfeldt.
This remix really gives you a completely different look at "Basket Case". I am not generally a fan of jazz music, but I have to say that this is pretty cool sounding.
There is also a pretty cool reworked music video to go along with the song, from Green Day's performance for MTV World Stage in Germany. You can watch the video over on YouTube.com by
clicking here
.
You can download the MP3 file to listen to on your iPod and computer over on our Featured Download page by
clicking here
.