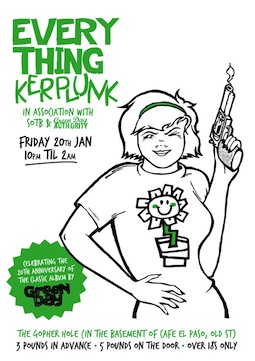 In association with "Everything Sucks" Nightclub and us here at The Green Day Authority, we present: "Everything Kerplunk" - a 20th Anniversary celebration of Green Day's 1992 pre-major breakthrough album,
Kerplunk
.
The event is being held at
The Gopher Hole
in London, England on Friday 20th January 2012.
What can you expect? This is from "Everything Sucks" nightclub:
"We are super excited for this party as we are all huge fans of Green Day here at Everything Sucks Club. Come celebrate the 20th anniversary of the release of Green Day's classic album Kerplunk!

We will be playing all songs off the album throughout the night and various other Green Day hits.

There will also be some Green Day giveaways and special guest DJ appearances on the night!"
It promises to be a special night!
Also, if you're in London around Xmas time,
Everything Sucks
are holding an "Everything Sucks" Christmas weekender on Saturday 10th and Sunday 11th December.
All details, including how to buy tickets for both events can be found by click the event pages below:
Everything Kerplunk
Xmas Weekender
Please note:
Both events will be strictly 18 years of age and over, due to nightclub restrictions.
See ya on the dancefloor!