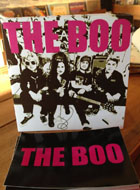 This past Saturday we
posted
that the Armstrong family recorded an album under the name "The Boo". For the past few days members of our forum have been
speculating
whether or not the public would be able to get ahold of the album or if it was just some kind of fancy Christmas card for those close to the family.
Well, now I am happy to say that if you are in the Oakland, California area you might be able to get your hands on a copy. Just moments ago 1-2-3-4 Go! Records
posted
on their Facebook page that Billie just dropped off a few copies of the album.
"A good friend of the store and his family recorded a few Christmas songs and dropped off a few copies for us to give away. Very few available and they are first come first serve. Happy holidays everyone!"
Unfortunately I am on the wrong coast, but I hope that one of you will be able to pick up the album and let us know how it sounds. Good luck to you all!
Update:
1-2-3-4 Go! Records is now saying that there are four songs on the album, three are originals and one is a Christmas medley.
Update #2:
We have just received news that 1-2-3-4 Go! Records are now sold out of all the copies that they had.