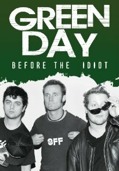 There is a new unofficial DVD being released later this spring called "Before the Idiot". It's currently available
for pre-order from Amazon
.
I tried doing a bit of research about this, but I didn't get far. I couldn't find any info about what's in the DVD or the company releasing it. All I can tell is it's an unofficial DVD, not being released by Reprise/Warner.
Pre-order if you feel like you must, or you could wait for us to review so we can see what the hell is in there. If you guys have anymore info send it to me - andres@greendayauthority.com
Thanks to Jimmy MacNeil for sending this news.