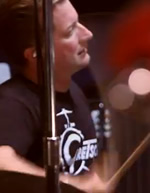 Back in January we
posted
about Mike and Trè attending the NAMM show in Anaheim. At the show, we noticed that Trè spent quite a bit of time with Gretsch in their drum area. We speculated the he switched from Leedy to Gretsch. In fact, this is true.
On Gretsch Drums' official site, they
posted a news story
welcoming Trè to the Gretsch family.
We've also been seeing Billie use Gretsch guitars quite frequently as of late. Most notably in the new studio videos. I wouldn't doubt if a majority of the new album's sound could be credited to Gretsch instruments...
Thanks to sergio for sending this news.