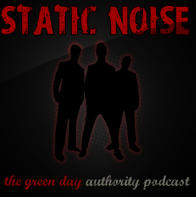 Episode 57 of our Green Day podcast, Static Noise, is now available. This week we talk about Green Day entering the studio to record the new album, the videos we're getting from the studio, and Rob Cavallo producing the new album? We also talk about Tony Vincent as a contestant on
The Voice
.
Oh yeah, we ask a trivia question at the end of the show based off
our new GDA zine
. Email us the correct answer to win a free copy of the zine!
Listen to the show
Or you can
right click this link
to save the file directly.
Static Noise Song of the Week
Download track
iTunes
You can also subscribe
to the show in iTunes
to automatically download the latest episodes. If you have a couple minutes to spare, please leave us a review
there
as well.
Zine Giveaway
Last episode contest winner 'theJOS'. Hint was "She's gone far away", answer: Haushinka.
Purchase a 'Zine or our Apathy shirt
http://www.greendayauthority.com/merch/