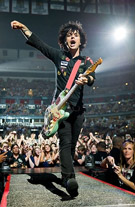 Recently, Rolling Stone readers were polled asking what was their most memorable rock concert of all time. Yesterday Rolling Stone
released
the final list with Green Day coming in second place and Bruce Springsteen taking the first place spot.
To any of us who have seen Green Day live this comes as no surprise with the band's seemingly endless amount of energy while performing. Here's a
review
from Green Day's 2009 tour kickoff in Seattle, Washington, written by Rolling Stone where they praise the band's live performance.
"But the band's obvious need to connect emotionally with their audience means they have an uncanny ability to make even a packed arena have the intimacy of a club gig. With the core trio of Armstrong, bassist Mike Dirnt, and drummer Tre Cool fleshed out by two additional guitarists, Jason White and Jeff Matika, and keyboardist Jason Freese, Armstrong was free to run around the stage and down a catwalk that extended into the audience with abandon, beseeching the crowd to wave, chant and sing."
On a related note, Green Day is pictured in the
May 10th issue
of Rolling Stone when they performed at the Rock and Roll Hall of Fame induction ceremony.
Thanks to Iva and Nikki for sending this news.