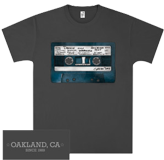 In the beginning of March we
announced
that
Caroline Moore's
"Mix-Tape" design had won the Idiot Club's contest to design the next official Green Day shirt.
Earlier today GreenDay.com added the shirt to their online store making it available for purchase. The shirt features a cassette mix-tape with the titles of each Green Day album on the front and the back says "Oakland, CA".
Two versions of the shirt are available, one that's
grey
and another that is a
teal color
, both cost $25.
Again, congratulations to Caroline, your design is awesome! You guys can follow Caroline on Twitter, @MooreClick