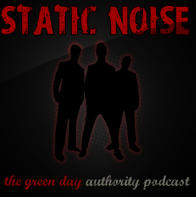 64: Listener thoughts about the trilogy
On this week's "Static Noise" we take a look at the latest studio updates, listen to some opinions from Green Day fans about the upcoming trilogy, and talk about Green Day inducting Guns n Roses into the Hall of Fame.
Listen to the show
Or you can
right click this link
to save the file directly.
iTunes
You can also subscribe
to the show in iTunes
to automatically download the latest episodes. If you have a couple minutes to spare, please leave us a review
there
as well.
Hosts
Andres
,
Matt
Contact Us
We invite you guys to write in feedback, stories, whatever for us - staticnoise@greendayauthority.com. You can also follow us on Twitter (@StaticNoiseGDA) or like the
show on Facebook
.
Show Notes
Studio Updates
#13 -
Tre is feeling blue
#14 -
Billie Joe multitasking
#15 -
Billie Joe recording vocals
Green Day performs Letterbomb at the Rock n Roll Hall of Fame -
video
Contest to Record A Green Day Cover
The Stuff That Didn't Quite Make It
New Merch!