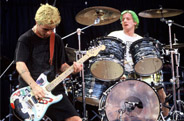 In honour of Green Day announcing they are playing
Voodoo Music Festival
in October, Fuse TV have compiled 30 photos from throughout Green Day's (mainstream) career. Some of these photos are ones that I haven't seen before, whilst others are well known snaps from around the web.
The only slip up they seem to have made however, is on one photo, claiming it's Billie Joe playing with Al Sobrante, I'm pretty sure it's Tre on the drums.
Head on over to Fuse.tv to view
their gallery
.
Thanks to Johnny. on the forum for sending this in.