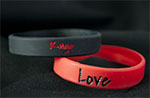 We finally have our kick ass
Rage & Love wristbands
back in stock. Weeeee! You should go order some because they're pretty bad-ass.
We also have
this new sticker
that says "I'd rather be at a Green Day concert." That one is most definitely going up on my car as soon as I wash it.
You can check out all our merch items
right here
. We ship worldwide. All money raised with merchandise goes directly back into the site to help pay for our servers and help keep us online. Thanks!