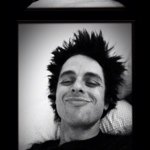 Billie Joe posted the following note
on Instagram
:
"Dear friends
I just wanted to thank you all for the love support you've showed for the past few months. Believe me, it hasn't gone unnoticed and I'm eternally grateful to have such an amazing set of friends and family. I'm getting better every day.

So now, without further ado, the show must go on.. We can't wait to get on the road and live out loud! Our passion has only grown stronger.
Happy new year
We love you all
Rage and love
XX
BILLE JOE

P.s..
Green day tour in march"
It appears that tour dates previously postponed are still being worked out. We're waiting for the official list from the band just to make sure we don't report anything that ends up changing.
Either way, it's really great to get an update from Billie Joe and I'm sure we all can't wait to see the band out there kicking ass again.