With this Sunday being the tenth anniversary of one of Green Day's biggest albums,
American Idiot
, Mike Dirnt
posted a photo
of a handwritten note with his feelings about the record to his Instagram account.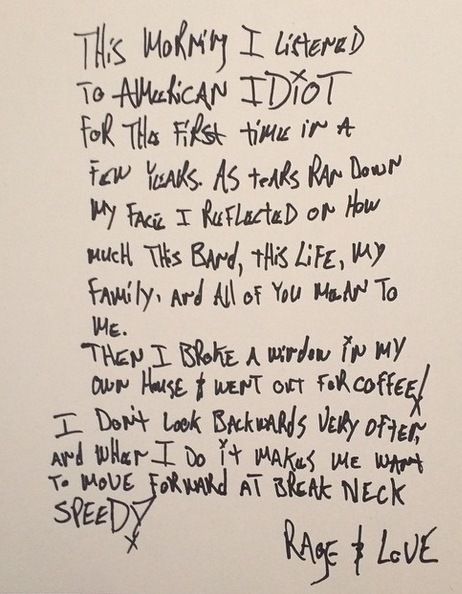 Here's the full text of the note:
"This morning I listened to American Idiot for the first time in a few years. As tears ran down my face I reflected on how much this band, this life, my family, and all of you [fans] mean to me. Then I broke a window in my own house and went out for coffee! I don't look backwards very often, and when I do it makes me want to move forward at break neck speed!
RAGE & LOVE"
He also captioned the photo:
"I'm sure you can relate! Lol #iNeededThat! #CantWaitForTomorrow!"
We aren't sure if that last hashtag foreshadows something that may be happening tomorrow, or if he mixed up the date of the anniversary to one day earlier than it is. I guess we'll wait and see! Either way, it is definitely great to see that Mike and the rest of the band recognize and appreciate what
American Idiot
means to fans, and what it is musically. Check back here tomorrow and Sunday for any news developments involving the anniversary, and our thoughts on the album!