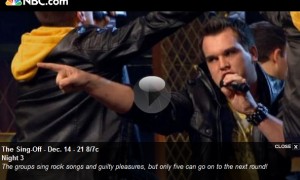 Last night, contestants on the NBC show "The Sing-Off" opened the show with an a cappella version of "21 Guns." The stage was decorated much like the American Idiot musical set, and the musical arrangement was very similar to how the song is sung in the musical.
The performance can be watched by clicking the image to the right. It starts about 1:10 (one minute, ten seconds) into the video. If you like the performance and would like the audio, it can be downloaded on iTunes by
clicking here
.
Thanks to dolce_amore93 for sending this news.