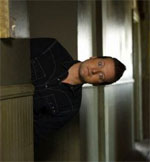 Top Tens
has listed 226 drummers on their site in a "Best Rock Drummer" contest, with Green Day drummer Tre Cool among the drummers. So far, he has averaged a 0.7%
A comment from a fan sums up Cool's nature perfectly:
"Tre Cool is the best drummer! Always funny, and happy and goofing around just so good :))"
Think you can help out Mr. Cool? Check out the site and head on down to number 25 where Tre is placed, and click on the vote button. Do it! Now!
Thanks to Sofia for sending in the news
.