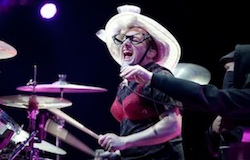 Tre Cool was nominated and won as "Best Punk Drummer" in DRUM! Magazines 2011
Drummies
, which recognizes some of the best drummers across music genres.
He was nominated alongside notable drummers such as Jonathan Diener (from The Swellers),
who tweeted
"I am RUNNER-UP Punk Drummer of the Year in Drum! Magazine's DRUMMIES AWARDS! RIGHT UNDER TRE COOL!"
, Brandon Barnes (from Rise Against), Brooks Wackerman (from Bad Religion), and Pat Thetic (from Anti-Flag).
Congrats to Tre! I think he should get any awards simply for that awesome photo :)
You can check out the full list of nominees and winners for each category
on this page
.