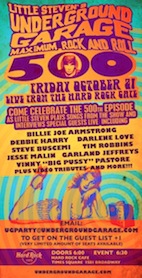 Billie Joe will be interviewed along with some other special guests on
Little Steven's Underground Garage
500th show next Friday, 21st October.
The show has been running since April 2002, set up to celebrate 60 years of Rock 'n' Roll. To celebrate the 500th show, a live recording is being held at
The Hard Rock Cafe
at Times Square in New York. If you're going to be in the area, you can apply for free tickets to the show:
"Freaks, misfits, and outcasts come join us to celebrate this milestone October 21st - Live at the Hard Rock Cafe in Times Square.

Little Steven will be there spinning songs from the 500th episode along with interviewing some special guests including Billie Joe Armstrong, Debbie Harry, Darlene Love, Steve Buscemi, Tim Robbins, Jesse Malin, Garland Jeffreys, and Vinny "Big Pussy" Pastore, plus video tributes, and some surprises!!!"
For more details about the show and how you can enter for free tickets to the event, click
here
.