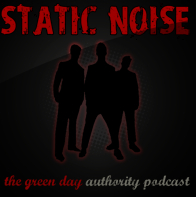 In our final episode of Static Noise for the year, we take a look at some of Green Day fans favorite moments from Green Day Land in 2011. It was one of the most fun shows we've done so far, and hopefully you'll enjoy it too. If you've never listened before, or have and thought "this is shit" - then i implore you to give this one a chance. If you enjoy it or it's still not your 'cup of tea', let us know! We love criticism ;)
Listen & Download
Links to everything we talked about can be found
on the forum
.
Listen above or
right click this link
to save the mp3. Better yet, you can
subscribe to the show in iTunes
to get the latest episodes automatically when they're published.
Be a part of the show:
Follow us on our new twitter account
@StaticNoiseGDA
Like the show
on Facebook
Send us your thoughts, comments, feedback, suggestions or stories to be read on the show to staticnoise@greendayauthority.com.