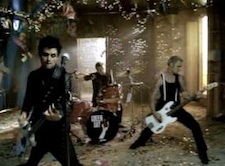 Boulevard of Broken Dreams
has been nominated
to win the "Best Video of the 2000's" VMA by MTV.
The BOBD video was one of Green Day's most popular music videos, it got plenty of airtime on MTV, VH1, and other music channels around the world. It was one of the reasons American Idiot was such a huge success.
Polls close on Wednesday, August 24th at noon. Help Green Day win
go vote here
!
Thanks to Nisa for sending this news.
click here to watch the music video