Projects
The American Idiot Musical
Pre-Production (2008-2009)
Directly after Green Day's punk rock opera American Idiot was released in 2004, rumors began to spread about the album being considered for a Hollywood movie. In 2006, after the American Idiot tour died down and Green Day started work on their next album, the idea for the movie slowly faded off the radar. Green Day mentioned that the plan was being put "on hold" as they wanted to focus on their music.
On March 29, 2009, just two months before Green Day's next studio album, 21st Century Breakdown, was released, the New York Times
released an article
titled "Punk CD is Going Theatrical." The article discussed Green Day working alongside Spring Awakening director Michael Mayer to turn their American Idiot album into a full musical stage production.
Mayer had approached Green Day's management with his idea to turn the album into a musical after listening to the album daily on his drive to and from wherever he was working (he was directing a film, 'Flicka', at the time, and was producing 'Spring Awakening' at that time). Billie Joe, Green Day's management, and some other friends and colleagues agreed to fly out to New York and meet with Mayer and watch Spring Awakening. In an
interview with Playbill
, Mayer recalls,
Billie Joe "loved the show and we had just this fantastic meeting. We had some drinks and we went out, actually, to Bar Centrale and just talked deep into the night about everything - about theatre, about music, about our childhoods, and about some of the very beginnings of my ideas about how to turn this into a fully stage-worthy musical thing, whatever it was.
6 weeks later he had the basic ideas down and kept in touch with Billie Joe to start planning more details.
Billie Joe worked with Michael Mayer to develop the story, and Mayer introduced the idea of adding more characters to the story, including Will and Tunny - who would be the best friends of Johnny (the lead character from the album, renamed from Jesus of Suburbia). Aside from the general story line, Green Day gave Mayer the freedom to build out his ideas on creating the world the story took place in and the characters involved. While this was happening, Green Day was working on their 8th studio album, 21st Century Breakdown, and Billie Joe frequently sent demos to Mayer to see if any of these songs could be incorporated into the musical. Michael Mayer
told the New York Times
in April 2010,
My idea all along was to keep the 13 songs in their original order and to interrupt it at times with other Green Day songs and the sparest of dialogue, because I didn't want to have any extraneous words".
After a year of preparation it was announced in late March 2009 that the American Idiot musical would be premiering on September 4, 2009 at California's Berkeley Repertory Theatre and run through October 11th. Later in the summer, the cast of the musical was announced on BroadwayWorld.com
Berkley Rep Theatre (2009)
Green Day's American Idiot made its world premiere at the Berkley Rep Theatre on September 4, 2009 for a series of previews until September 16th when it would make its official debut. Before the musical had opened its doors that night it was
announced
on LiveDaily.com that the musical was going to be extending it's run by three weeks, until November 1st, because of high demand for tickets.
Some reactions from our forum members on the previews include:
"The cast was phenomenal. They opened with 'American Idiot' and the set was fantastic! The dancing was awesome, and the play sort of reminded me of 'Rent' [by Jonathan Larson] but it was even better!" - Pasalacqua91
"The production did more than did justice to Green Day's music."- J'net
On September 16th American Idiot officially opened to the public and audiences were floored by what they saw on stage and how well the album had come to life. Reviews included comments such as:
"The cast, led by Tony-winner John Gallagher Jr., is phenomenal and the physicality they bring to the show and Steven Hoggett's punk-esque choreography deserves a lot of praise. The sets, lighting, video and projection design are all amazing, creating a huge, urban jungle gym of concrete platforms, flat-screen TVs, and ad-plastered walls that keep every scene visually alive." -
SFist.com
"That attendance, and the fact that the show's run already has been extended, isn't entirely surprising, given Green Day's international popularity as well as its hometown appeal." -
SFExaminer.com
Billie Joe said at the time,
"I was interested and flattered to meet [director] Michael Mayer. We were floored by Spring Awakening [the 2006 Tony-winning rock musical Mayer helmed], and so there were no worries. I think this is a broader version of the album. We started with Johnny, St. Jimmy, and Whatsername, and Mayer added Will, Tunny and Heather. Your heart goes out to them."
Photos from the premiere and the after party can be viewed in
this album
of the Picture Vault.
The musical was later again extended until November 15, 2009. It was announced that Green Day's American Idiot musical was the most successful musical that was ever performed at the Brekley Rep.
21 Guns [Cast Single] (2009)
After an extremely successful run at the Brekley Rep Theatre Green Day decided to take the cast of the American Idiot Musical into their studio, Studio 880 to make a recorded version of the song '21 Guns'. The cast version of the songs was released to iTunes for
download
on December 22, 2009.
Green Day recorded the whole recording process on video and realased a music video for the reworked vierson of 21 Guns on February 1, 2010. The cast even preformed the song alongside Green Day at the 2010 Grammy Awards.
Broadway New York City (2010)
After months of speculation on January 5, 2010 it was finally
announced
that Green Day would bring American Idiot to Broadway at the St. James Theater (246 W. 44th St. New York City).
The American Idiot Musical was then set to launch their preview performances on March 24th. A little over a month later the musical would officially open on April 20, 2010.
So far American Idiot has had a very successful run on Broadway winning many awards including two Tony Awards for Best Scenic Design of a Musical and Best Lighting Design of a Musical.
St. Billie (2010-2011)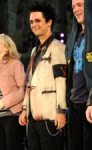 In
September 2010
, it was announced (by Billie
on Twitter
no less), that Billie Joe would be joining the musical cast for a week to perform as St. Jimmy. Billie Joe's performance got some very impressive reviews, and helped the musical
earn nearly $1.1 million
for the week he was there. At the time, he was only able to perform one week, as the following week the band kicked off their 2010 South American tour.
People speculated that he might return, and sure enough, on
November 30, 2010 it was announced
Billie Joe would be coming back to play 50 performances, for the entire months of January and February of 2011.
After a successful 50 show run in February, it was announced that Billie Joe would be making another 50 show appearance as St. Jimmy from April 5th through April 24th. On the same day it was also announced that American Idiot would be closing it's doors at the St. James Theatre for the last time on April 24th. Ticket sales had declined dramatically from about $1.3 million to $400,000 in the weeks before Billie's final run was announced making it financially impossible for the show to stay on Broadway.
On closing night of American Idiot on Broadway there was not a dry eye in the house. The amount of applause that the cast received after each song was incredible. After the show came to a close one of the producers of American Idiot came out and said that American Idiot would be going on an international tour staring in 2012. After a few speeches Green Day came out and played a ten song set. ("Only Of You", "Murder City", "Holiday", "Burnout", "Letterbomb", "Welcome To Paradise", "Longview", "Spiderman" [Cartoon Theme Tune], "Walking Out On Love" [Exploding Hearts cover], and "Jesus Of Suburbia")
You can read our full review of closing night by clicking here
American Idiot Musical Tour (2011-2012)
On February 11th, 2011 it was announced by Playbill.com that the American Idiot Musical was in it's planning stages of getting ready to go on tour. About a month later it was known that the opening night of the tour would be on December 28, 2011 in Toronto, Ontario.
From here on all the rest is history. The American Idiot movie is currently 'under development' with Tom Hanks producing and Michael Mayer directing. American Idiot has sure been a fun journey and the story will just keep on writing itself as more doors and possibilities open for the album, musical, and movie.
Recent News on GDA for the Musical
American Idiot opened on Broadway at New York's St. James Theatre a decade ago on April 20th, 2010 and went on for a total of 422 performances until it closed in April 2011. While current social distancing measures mean the cast could ...
read story
Exciting news for Australian fans as it was announced that Chris Cheney of The Living End would be stepping into the role of "St. Jimmy" in the American Idiot musical debuting at Queensland Performing Arts Centre on 23 February. Of course ...
read story
Yesterday morning, Green Day were the musical guests on an episode of The Ellen Show, which is airing this afternoon on a variety of TV stations in the US. The show's website and YouTube channel have released two songs performed on the ...
read story
Students at Enfield High School in Connecticut were planning on putting on a production of the 'American Idiot' musical at their school until staff decided against it out of concern from some parents. In a message to NBC Connecticut, school ...
read story
Congratulations to DOMA Theatre Company! The theater's production of the "American Idiot" musical received five BroadwayWorld.com Awards this week, including best musical. The production, which played in Los Angeles this year, received ...
read story
View all 67 stories about Musical.
View them here
.
Recent Photos