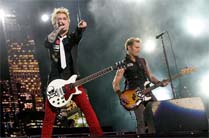 MTV's HD music channel,
Palladia
will be showing Green Day's performance from the 2010 Lollapalooza festival tonight at 9:00pm EST.
If you miss out on the first showing, Palladia will be repeating the program at the following times:
- 4/17 Sunday: 12:00 - 2:00am
- 4/17 Sunday: 1:00 - 300pm
- 4/19 Tuesday: 10:00 - 12:00am
- 4/20 Wednesday: 4:00 - 600pm
- 4/23 Sunday: 1:00 - 3:00am
The two hour long program also includes other performances by Soundgarden and Lady Gaga.
Check your local listings to see if you get Palladia. We will try to get a recording of the show and post it up on GDA as soon as possible.
Thanks to GuitarGod127 for posting this on our forum.